Tempers have become frayed at the port of Dover as lorry drivers face continuing delays despite France reopening its border with the UK.
France ended its ban on UK arrivals on condition of a negative coronavirus test, but the backlog is expected to take days to clear.
Frustration among drivers has led to clashes with police.
Around 50 countries imposed a ban after the UK warned of a new, fast-spreading variant of coronavirus.
The French government's ban, introduced on Sunday, has now been eased to allow French citizens, British nationals living in France and hauliers to travel – if they test negative less than 72 hours before departure.
Soldiers have joined NHS Test and Trace staff in Kent to carry out rapid tests on thousands of stranded lorry drivers.
But Communities Secretary Robert Jenrick said it could take "a few days" to clear the backlog.
A number of drivers clashed with police this morning, with officers trying to push back a small crowd trying to enter the Port of Dover.
Kent Police said one man is in custody after being arrested for obstructing a highway in Dover and there have been disturbances at Manston Airport, where a lorry-holding facility run by the Department for Transport is now full.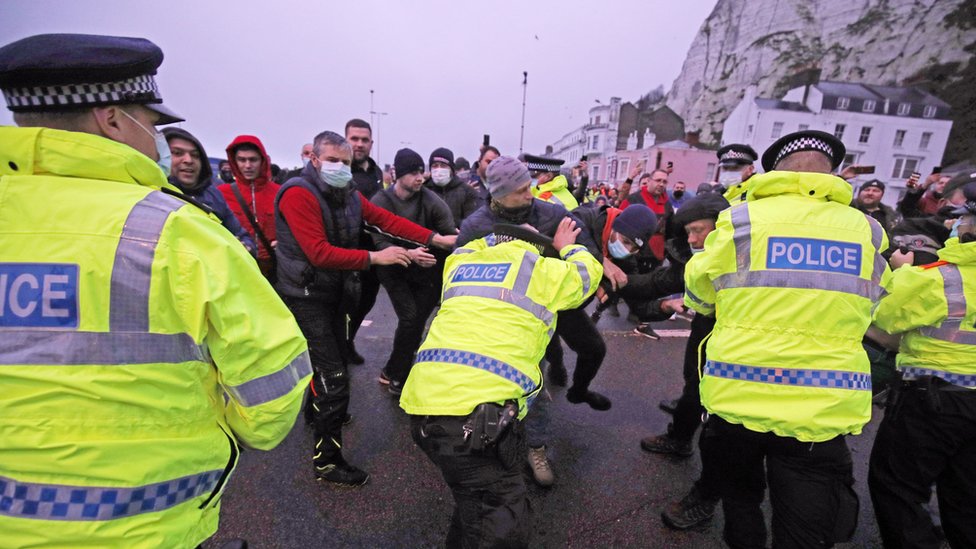 Rod McKenzie of the Road Haulage Association described the situation as "chaos" as lorry drivers headed to ports thinking the borders would be open.
"They're tired, frustrated, desperately wanting to get home for Christmas," he said.
He said the information given to them has been "extremely poor", while food provision, toilets and washing facilities were "inadequate".
Richard Lloyd, director of a British firm that imports farm machinery from Poland, said he had been called by the family of a driver who was stuck without food, asking whether he could get a loaf of bread to the lorry.
"He didn't want to go anywhere because of the security of the truck, and obviously a place in the queue, so it was a desperate situation," Mr Lloyd said.https://emp.bbc.com/emp/SMPj/2.36.7/iframe.htmlmedia captionAerial views of the thousands of lorries stuck in Kent since the border shut
More than 50 other countries, including Germany, Italy, India and Pakistan, are continuing to block travellers from the UK.
The Netherlands and Belgium have also now lifted their ban, but will only accept people if they have a recent negative result.
The Channel is a vital trade route, with about 10,000 lorries a day travelling between Dover and Calais at Christmas, largely bringing in the freshest produce.
Supermarkets have been warning that the travel ban and subsequent delays at ports could see shortages of certain fresh foods, including lettuces and citrus fruits.
More than 5,000 lorries are being held in Kent, according to the Department for Transport.
It said testing had started but urged hauliers "not to travel to Kent until further notice as we work to alleviate congestion at ports".
The Port of Dover also urged passengers not to turn up without a negative coronavirus test.
Mr Jenrick told BBC Radio 4's Today programme it is likely to take "a few days" to clear the backlog of lorries that have built up.
He said there would be "multiple testing sites" at Manston Airport and elsewhere.
Rapid "lateral flow" tests will be used, which can detect the new variant and work like a pregnancy test to give a result in about 30 minutes.
Freight drivers will receive their test result by text, and a negative result gives them the right to cross the Channel.
If they test positive they will be offered Covid-secure hotel accommodation nearby where they will have to self isolate.